Launching the world's best CNC Wire-Cut EDM Technology, Twin Head EDM and more…
With 4 Machines on Display, 8 Team Members and over 1500 Visitors in 7 Days…IMTEX 2019 was a grand success for Sparkonix. The special attraction was the launch of India's first indigenously developed Twin Head EDM Machine, which promises an improved level of productivity for larger moulds. Another highlight at the Show was the launch of ultra-precision CNC Wire Cut EDMs from Seibu.
Thank you Team Seibu!
The made The team from Seibu, Japan was present at the Sparkonix's booth to guide and assist the prospective customers on adopting Seibu's world's class ultra-precision CNC Wire EDM technology in their respective applications.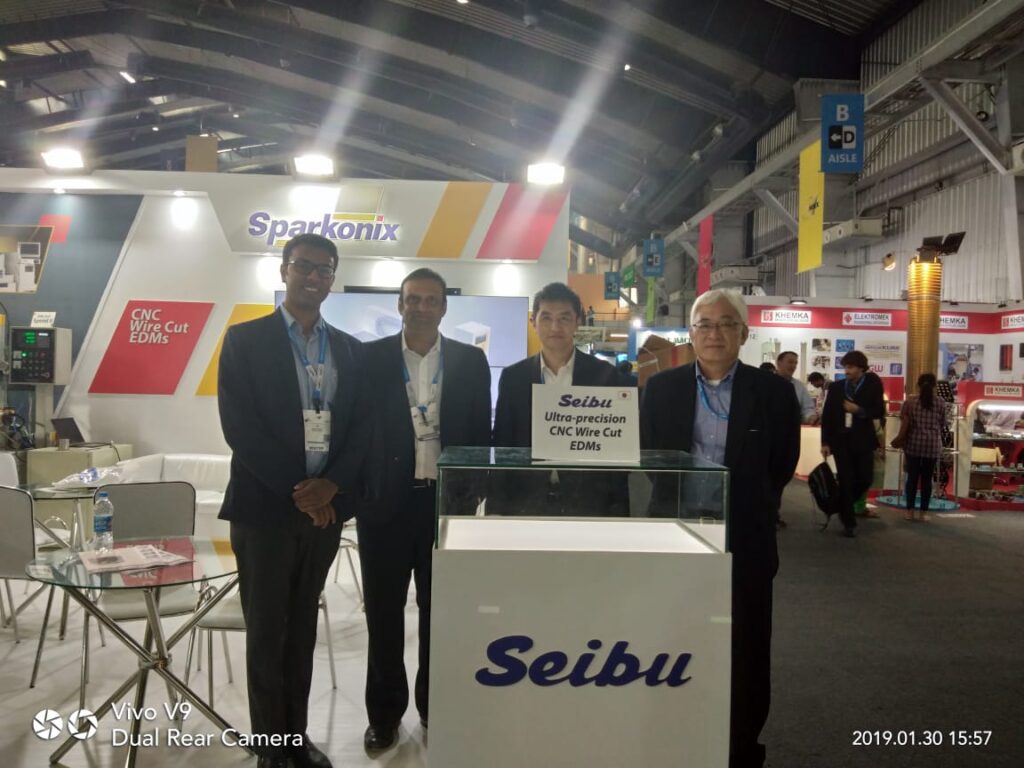 Sparkonix will represent Seibu as a Sales and Service Agent in India for its range of ultra-precision CNC Wire Cut EDMs.
Features for the Future!
Sparkonix also launched the features for the future in its new range of advanced EDMs…Prominent among these include:
– FG 260 Cast structures
– T–Slot table (Grade Zero) for placement of work piece
– Form and fit Linear motion Guide ways with AC servo system for X,Y, Z, W axis
– Precision ball screw with pre-loaded angular contact Bearings
– Compact controller with interchangeable insert-Card type design
– Software, hardware and mechanical limit switch
– Intelligent arcing sensor for auto adjustment of functional parameters
– Indigenous high-pressure direct drive Plunger Pump, in SS body
– Additional wash away port near drilling point
Thanks again, to everyone who visited our booth and made IMTEX 2019 such a success for Sparkonix.