Installing an EDM is different from acquiring a VMC, HMC or CNC lathe. The EDM Operation has some special requirements. Of course, these requirements are not complex or expensive but they are surely Important. Neglecting those can surely have a significant impact on the installation of the machine.
After you have purchased an EDM, installation considerations are important to achieve the productivity requirements and quality expectations.
Basic checks before the machine is dispatched to your location
One of the basic and easy to miss points is to check for the space at the entrance and for movement of the machine within the shop. Especially Small job shops using the EDMs may have limitations in entrance doors, might want to locate the machine on a higher floor and therefore need to consider basic arrangements such as:
Does your entrance door wide enough for entry of the packed machine?
Do you want to place the machine on any floor other then the ground floor?
Do you have enough space in front of the machine for the operator?
Is there enough ventilation for EDM fumes?
Preparing the shop
Setting up EDM may require certain additional modifications as compared to VMC or CNC machines. Piping for cold water is required to reach the dielectric system of the machine. A drain line also needs a setup. A new piping to bring compressed air into the EDM enclosure may also be required.
Sparkonix services team provides all the consultation, including modifications requirements in electrical wiring, plumbing, air lines etc., to ensure your EDM Spark Erosion machine is ready for production.
Preparing the production staff
The first time buyers have to prepare more as the manufacturing principals of an EDM Spark Erosion machines are significantly different from those in VMC, Drilling or Lathes. For the first time buyers, its important to learn and understand the production time estimates for EDM process. The information from the manufacturer must be studied. However, even for those buying their second or subsequent EDM, revision of basic awareness for the production staff is recommended. Especially, the Operators must be made aware of the new features in the EDM to take a complete advantage of the same. Intermediate checks must be done to ensure the Operators are not working as per their traditional thumb rules.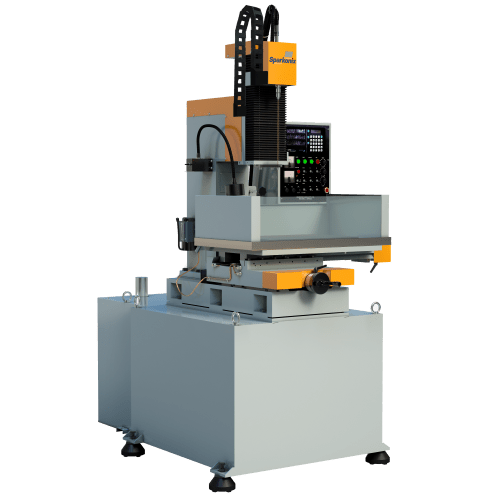 Preparing the workflow
Often, EDM process runs for hours together and the Operators manage multiple machines, simultaneously. Loading and setting time of the jobs in case of EDMs are also relatively higher as compared to other manufacturing processes. Proper process in routing of the jobs is critical to saving time and ensuring better throughput.
Sparkonix EDMs comes with unique features such as Fault Alarms in case of machine remaining unattended for a specific duration after a fault has occurred. Following process checks in the workflow will be of help:
Estimate the right loading and set-up time as per the job
Check quality of oil as it impact machining
Choose the best program for highest MRR without compromise on quality
Ensure an Operator is always present to attend to a fault
Establish a escalation metrics in case the fault is not resolved
The first maintenance
It's easy to overlook the maintenance in production overloads. EDM Spark Erosion Machines typically operate continuously and thus need a detail periodic monitoring. But more importantly, there are some essentials that you may consider after machining the first few jobs. These include:
Check the dielectric filters
Ensure the dielectric fluid has not degraded significantly
Check for leakages of oil due to imbalance, seals breakage etc.
Ensure sparking is not causing any unintended impact on electrical health of other machines
Conclusion
With more and more applications lending themselves to this versatile and economical process of EDM, more and more shops are finding uses for EDMs. Sparkonix's team helps you identify and set up the EDM till it's successful in operation.
Sparkonix offers free trials on actual components for its customers at its factory in Pune. Several customers take advantage of this to check their actual cycle time and quality expectations on Sparkonix machines, before procurement.
Do get in touch with us to discuss the EDM applications and requirements.