Get it back in action with Sparkonix's refurbishment services
India imports over 50% of its metal cutting and finishing machines. Machines from China, Taiwan, Korea and other South East Asean countries forms a major chunk in the overall imports. EDMs are of course not an exception, with several small and mid-sized manufacturers opting for these machines. However, many of these imported machines break-down or are rendered nonfunctional due to lack of local service and spares, very costly spares or months of lead times in procuring critical spares.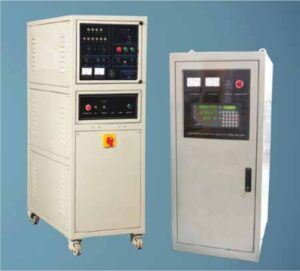 The prices of some of the imported EDM machines are so low that the customers tend to fall for it, without giving a second thought, says Ashok Zalki, Head of Service at Sparkonix. Every 2-3 years, the market is flooded by a new make of these imported machines.Indian customers, especially, small job shop owners are worst hit, if the machines go defunct due to one or the other reason.
Sparkonix is a truly customer centric.
Since the founding, Sparkonix has laid a great emphasis on providing prompt and excellent service to its customers. By keeping the cost of spares and consumables the lowest, we create an unmatched cost competitiveness for our customers.
"Ensuring the customer wins has always been our first priority,
even if it means fixing a competitor's defunct machine."
Shailesh Patwardhan,
Director, Sparkonix (India) Pvt. Ltd.
Refurbishment – the need of the hour
A quick survey of the market done by Sparkonix revealed over 4% of the customers in key industrial clusters are facing issues with imported machines. All these customers are trapped and in clear need of an expert support to survive and gain meaningful return on their investments. With heavy investments in imported machines these the customers exhaust the investments and are left with a defunct machine occupying their shop floor. Buying new EDM is not an economical option for most of these the customers.
Sparkonix's refurbishment support is an effort to stand by these the customers
and provide them all the support needed to recover their investments
Getting a defunct Chinese CNC EDM back in operations in less than 15 days
In a recent such incident, a leading manufacturer of moulds approached Sparkonix's team for refurbishment of a Chinese make CNC EDM, it had bought just 2 years back. The EDM had become totally non-functional and with no support from OEM, there was no option but to scrap the machine. Sparkonix's team studied the machine and suggested to convert it into an ZNC EDM using Sparkonix's highly reliable Controllers. However, controlling the CNC functions in the machine tool by an ZNC Controller was a key challenge.
Refurbishment Services
Sparkonix's refurbishment services for defunct or nonfunctional imported EDMs includes:
Detail assessment and estimation for refurbishment
Total design, engineering and proving the machine for applications
Continual support services and spares for parts supplied by Sparkonix
From non-functional CNC EDM to fully operational ZNC EDM
Sparkonix's decades of expertise in building and servicing EDMs gives an unparalleled edge to customers. In this case too, Sparkonix's Engineers replaced existing motors to facilitate the X-Y. The result is a fully operational EDM for the customer, with just a fraction of the investments as compared to the new machine. Continued support from Sparkonix's team for service and spares was a another key advantage.
Benefits to customers
Fully operational machine at significantly lower investments
Turnaround time of just 2 weeks
Assured support for maintenance and guarantee for Controller spares.